Ancient Medicine Meets Modern Nutrition
We're on a mission to sustain optimal pet health with therapeutic food based in integrative medicine, and we're glad you're here.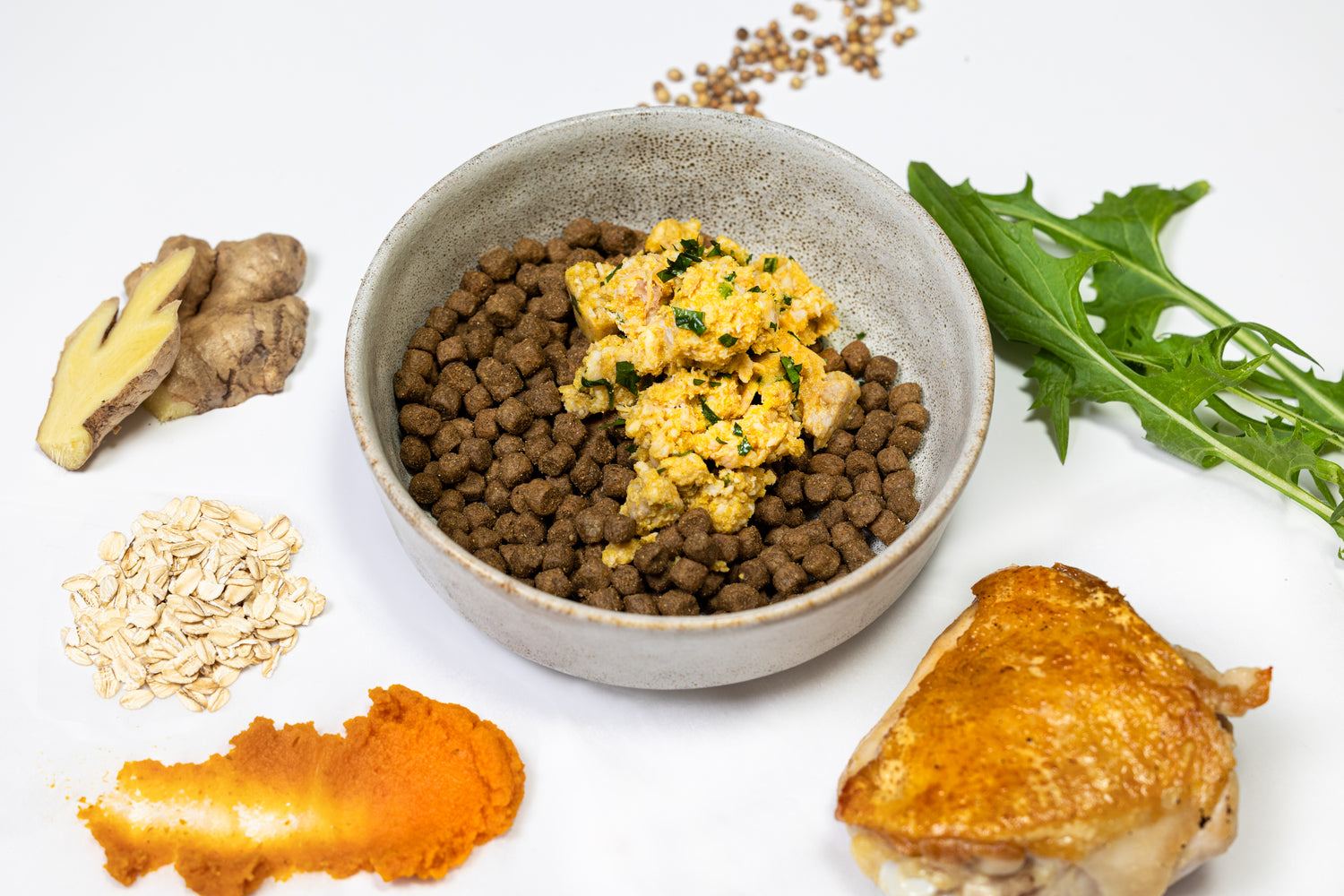 Digestive Support Topper
Most pet parents who shop with us are looking for foods that support digestive health.
Maintain and support your pet's digestive health with our Digestive Support Topper.
Shop Our Top Seller
Our fresh whole food supplements are the easiest way to add wholesome nutrient rich protein, joint lubricating fat and mineral rich organic vegetables to your pet's diet.
Feeding kibble? Fresh? Raw? Great! No need to change a thing, simply add in any of our products to support your pet's longevity and vitality.
Our recipes are guided by ancient wisdom using whole food for wellness, created by a licensed holistic veterinarian and prepared in a human grade commercial kitchen.
Testimonials
Olivier

"Before we found 5 Element's toppers, Olivier was not excited to eat. Since we started to add the variety of nutrients in his daily meals, meal time is his favorite time of the day. His coat is shiny, and his fur feels soft and wonderful. I am so grateful that home made healthy delicious food is available. I am a furever loyal client." -Ellen G.

Stella

"It was summer of 2019 when we took our 4 year old rescue dog, Stella rose, for her annual check up. Our Vet had previously informed us that he felt Stella was getting over weight. This time our vet said it was very critical that Stella lose 6 pounds. We tried some different foods with no success. I finally reached out to Sharon at 5 Element Food Therapy for help. It was October 2019 and by June of 2020 Stella had lost the 6 pounds needed for her small body!!! Our vet was very happy and so is Stella! She has more energy and doesn't sleep all day!!! Plus we know she is getting the proper nutrition now for a long and healthy life!!!" - Jori + Nancy

Zoe

"Thank you for saving my cat, Zoe! After a year of having Zoe, we noticed she was losing her hair, was scabby and scratched relentlessly. We took her to the vet and found out she had allergies, but could not afford the tests to find out which type. For about a year she continued with the scratching. She had licked and chewed all of her hair off, except for a mohawk that she couldn't reach. We started her on 5 Element Food Therapy supplements and there is no more biting, scratching, scabby, bare bottom, mohawk Zoe! Her hair is growing, she is happy, she plays, we can pick her up, pet kiss her. It is a beautiful thing!" - Adrienne