Addabar - daily supplement
Let's feed them better
Bundled combinations of our products that support your pet's unique health needs all in one beautiful nutritious and delicious bar.
Explore the plans in our Daily Pet Supplements »
Why 5 Element Food Therapy
We believe in a more balanced approach to feeding our pets. Our whole food additions add moisture, fat and protein as the most nutritious and wholesome part of your pet's daily meal.
Our Mission
We are commited to truly nourishing dogs and cats using the healing power of food.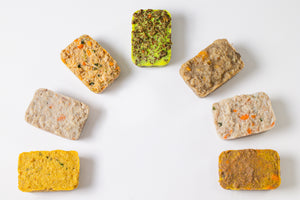 Addabars
Combinations of ingredients add diversity to every meal. Addabars can be used to target common health concerns.
Shop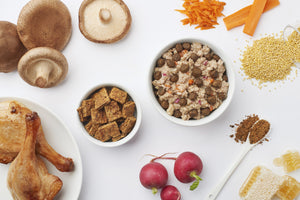 Subscriptions
Health - Delivered
Delivered direct to your door. Add our whole food products to their regular meals and watch them wag, or purr. Either way, you're getting a thank you.

Subscribe to save time and money.
Explore our recipes
Rovernighter
I'll take mine to go
The Rovernighter is the cutest way to keep their food fresh when they're eating away from home. Daycare? Playdate? Dining al fresco?
Check, check, and check.
Get your go bag
Drop in for a visit
Our Store in Jack London Square
5 Element Food Therapy
308 Jackson Street #3
Oakland, CA 94607
*We are not responsible for your pet's unwillingness to leave our awesome store. Visit at your own risk."
Get Directions